This month's photo gallery continues to feature the work of photographer Low Wee-chia, chief editor of a publishing company in Taipei. Low is a former photography instructor at DCView website in Taiwan and a contributor to DigiPhoto, a photography magazine. His body of work can be seen on: http://www.flickr.com/photos/wee_photo/. You may also contact him at .
1. Taxi driver
Visitors are surprised upon seeing a sea of taxis in Taipei. Taxi drivers here provide an efficient 24-hour service and reflect the pulse of Taiwan society. Don't be surprised to be enthusiastically engaged in a discussion about current affairs or to hear the overwhelming endorsement of certain candidates during an election campaign.
2. Bike shop owner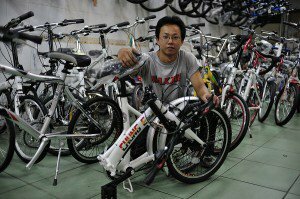 Taiwan is a major bike producer. Today, more Taiwanese people rely on pedal-power due to a desire to conserve precious energy resources and to protect the natural environment. With Taipei's high population density, it is often hard to find a parking space. Many people are now turning to small collapsible bikes as a solution.
3. Roadside jewelry vendor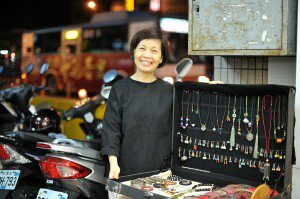 Mobile vendors follow the flow of people and activities to maximize their sales. From morning till night, these vendors are able to quickly relocate with their cases of goods in order to set up elsewhere.
4. Traditional grocery store owner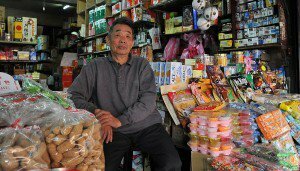 Those born in the 1940s or 1950s might remember a childhood spent picking out candy at a neighborhood grocery store, where most necessities could be found. With the island's economic boom, Taiwanese people have adopted a more Western style of living. Instead, such traditional grocery shops have given way to a large number of convenience stores.
5. Private recycling collector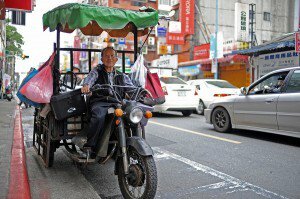 Recycling in Taipei is well-organized, with nightly pick-ups by the municipal garbage collection trucks. However, you can also see a few private recyclers who collect small batches to survive.
6. Roadside fruit vendor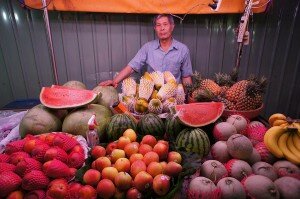 On hot summer days, Taiwanese people often visit roadside fruit stands to buy a refreshing slice of watermelon to quench their thirst.  An island rich in fruit of all types, Taiwan's agricultural advances have only improved its fruit stocks. Stop by a fruit stand and see what the season has to offer.
7. Chicken stall at a sunset market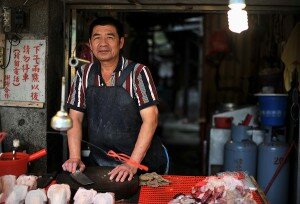 Even though Taipei is a modern city, if you turn into that small alley, you might find yourself at a sunset market. These markets are located in residential neighborhoods that are quiet during the day, but bustling in the evening. Just before sunset, vendors begin to set up shop so local residents may have access to fresh vegetables and meat.