Opening Night Reception at 9:00 pm on Friday, October 14
Formosa Mambo International Premiere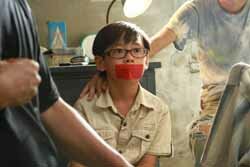 Friday, October 14, Movies at 7:00 and 9:45 pm
A kidnapping goes awry when the young hostage's family refuses to take it  seriously. Stuck with a hostage and now on the run, the kidnappers' situation  becomes a comedy of errors with delicious plot twists and double crosses. Director Wang Chi-tsai in person.
Taivalu North American Premiere

Saturday, October 15 at 1:30 pm
The island nation of Tuvalu is expected to be the first victim of rising sea levels associated with climate  change. This documentary examines the current situation in Tuvalu  and draws parallels to ecological situations facing Taiwan.  Winner of Grand Prize and Best Documentary Prize at 2011 Taipei  International Film Festival. In Taiwanese with subtitles. Director Huang Hsin-yao in person.
Pinoy Sunday

Saturday, October 15  at 4:00 pm  and Sunday, October 16  at 7:00 pm
In this charming comedy, two immigrant workers from the Philippines labor in a strict factory six days a week. On their day off, they find a sofa  that they are determined to take back to their workers' dorm across town.  Without transport and laboring under a curfew,  it becomes an epic journey. In Tagalog and Mandarin with subtitles.
You Are the Apple of  My Eye North American Premiere

Friday, October 14 at 4:30 pm and Saturday, October 15 at 6:00 pm
Ko-teng has a crush on the beautiful class overachiever, Shen Chia-yi, as do most of his close-knit group of roguish friends. When a friendship serendipitously blossoms between the two, romance may seem inevitable, but what develops is infinitely sweeter. This directing debut of megastar novelist Giddens was a hit at the Taipei International Film Festival this year. In Mandarin with subtitles.
Honey Pupu  U.S. Premiere

Saturday, October 14 at 9:00 pm
A character named Dog, the key to a young woman's love life, disappears, and she aims to track him down through his social media network. In Chen Hung-i's exploration of networked communications and virtual friendships, the characters begin combining their online lives with their real ones, coming to grips with  what it means to live in an age of constant acceleration. In Mandarin with subtitles.
The Coming of Tulku International Premiere

Sunday, October 16  at 1:00 pm
A man of gentle paradox, 90-year-old poet Zhou Meng-die displays a particular economy of speech, gesture and expression belying his racing mental acuity. The audience is eased into the rhythm as Zhou's life as it unfolds slowly and with purpose, thick with small pleasures. Those who allow themselves to be swept  into his perspective will find they are gently nudged into experiencing another mode of being. In Mandarin with subtitles.
Bear It  International Premiere

Sunday, October 16 at 4:15 pm
In Cheng Fen-fen's comedy, Peter is a travel guide and chaperone for teddy bears sent on tours by their families. When he is in an auto accident and three of the bears go missing, his attempts to replace them, which results in a number of human entanglements that his work with inanimate objects was designed to help him avoid. Soon he is enmeshed in a roving band of misfits far more
unpredictable than his usual passengers. In Mandarin with subtitles.
Ranger International Premiere

Sunday, October 16 at 9:00 pm
A convicted murderer is released from prison after 25 years. Finding himself immediately reimmersed into the violent rotherhood of mob society once again. He soon faces ostracism and is on the run when he becomes protective of the mob boss' abused child. A riveting story of multigenerational violence and retribution whose cycle can only be broken from within. In Taiwanese with
subtitles
Film tickets and Venue
$11 for SFFS members, $13 general, $12 seniors, students and persons with disabilities; Opening night film and party $15 for SFFS members, $20 general; Film Society CineVoucher 10-Packs $105 for SFFS members, $125 general. Purchase online at sffs.org or in person at San Francisco Film Society. All screenings will be at the New People Cinema on 1746 Post Street, in San Francisco's Japantown.